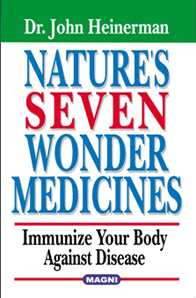 Nature's 7 Wonder Medicines
Immunize your body against disease.
In Dr. John Heinerman's latest heath-giving guide, the best-selling alternative health author passes on remarkably effective prescriptions from folk healers to medical practitioners using the powers of seven common foods and herbs. Dr. Heinerman reveals the secret healing treatments that nourish our bodies with revitalizing elements we need so desperately to immunize our bodies against disease. 262 pages. 
---
We Also Recommend
---
Liquid error (layout/theme line 352): Could not find asset snippets/spurit_uev-theme-snippet.liquid