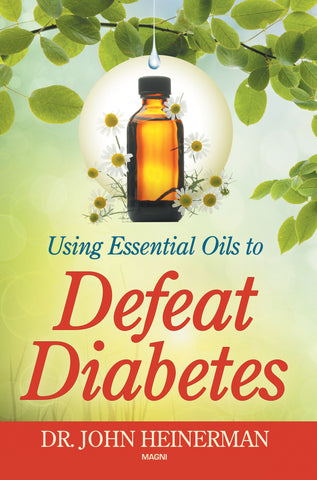 Using Essential Oils to Defeat Diabetes
In the best tradition of his many other top-selling health books, medical
anthropologist Dr. John Heinerman shows you how to Defeat Diabetes by using the
amazing healing virtues contained in essential oils.
Dr. Heinerman begins by explaining how plant oils are really "the key to
wellness transformation." If more diabetics knew about the incredible healing
benef its that essential oils can deliver, there would be a great reduction in the
overall statistics for this malady, not to mention the tremendous drop in medical
costs to treat it with conventional drugs.
Dr. Heinerman presents indisputable proof of the amazing health benef its of
an essential oil derived from a nuisance weed, a presumably valueless plant, can
be in the treatment of diabetes.
He also uses common spice oil found in the old medicine of Spanish Moors
and quite familiar to bakers and cooks everywhere, as a time-proven remedy for
diverting diabetes into a recovery mode.
In a subsequent chapter, the author explains the medically-accepted fact
that inflammation is part of the underlying framework behind diabetes, and then
proceeds to list very popular f lower oils and how they can be used to treat this
pervasive problem.
He gives a number of essential oils for stress reduction, internal repair, and
general body maintenance for diabetics.
Diabetic neuropathy affects the lower limbs of most diabetics. Dr. Heinerman
explains how the essential oils can reverse such compromised microcirculatory
disorders. And, he references hand-and-foot baths frequently, in which essential
oils predominate, for the recovering wellness of diabetics.
Helpful instructions are given on how to make your very own oils, while the
concluding chapter provides a handy list of ready manufactured essential oils
easily obtainable for consumers at retail and recommendations for their use in
diabetes.
---
We Also Recommend
---
Liquid error (layout/theme line 352): Could not find asset snippets/spurit_uev-theme-snippet.liquid