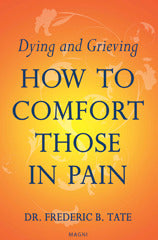 How to Comfort Those in Pain
Rather than run from those who need your support, Dr. Tate offers the insight into what it really means to live, love, and be loved so that pain and/or death will not over power your wonderful relationships.
Additionally, Dr. Tate teaches you how to draw from difficult situations the comfort you need to get by when no one knows how to properly comfort you.
This book is a powerful tool to help with a subject often avoided.
 "I have several reasons for writing a book on death and dying.  Over the years I have continually observed well-meaning people say really insensitive things. I have been guilty of it myself. People are not often intentionally cruel when someone has died. It is just that we are not taught what to say and the painful emotions often get in the way. If you view death as a failure, it makes it even more difficult."
- Dr. Frederic B.Tate
---
We Also Recommend
---
Liquid error (layout/theme line 352): Could not find asset snippets/spurit_uev-theme-snippet.liquid