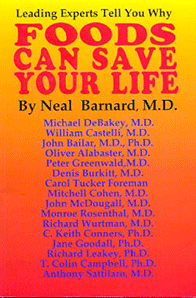 Foods Can Save Your Life
Interviews with 16 doctors!
Improve Your Health Today!
In engaging interviews by Dr. Neal Barnard, leading experts tell you their unique perspectives on the power of foods and discuss how our eating habits determine our chances for a long and healthy life.  Chapter topics include: Cholesterol, Food, and Your Heart; Tackling Cancer; Uninvited Guests; Food-Bourne Illness; Other Common Health Problems; Foods and the Mind; Clues to the Natural Human Diet; and Lessons From Around the World.  Learn more about how food choices can improve your health.
96 pages
---
Liquid error (layout/theme line 352): Could not find asset snippets/spurit_uev-theme-snippet.liquid