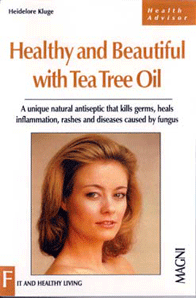 Healthy and Beautiful with Tea Tree Oil
Learn about this wonder medicine from Australia.
Unique, natural antiseptic kills germs, heals inflammation, rashes, and diseases caused by fungus.
This helpful book is packed full of information about Tea Tree Oil and its healing abilities. Tea Tree Oil has proven effective in healing fungus, bacteria, muscle and joint pains, sunburns, warts, and open wounds. It is also beneficial in treating skin and hair. Contains simple and gentle working recipes you can make yourself such as bath oils, massage oils, cleansing lotions, creams, rinses, inhalants, compresses, and direct applications. 100 pages. 
---
Liquid error (layout/theme line 352): Could not find asset snippets/spurit_uev-theme-snippet.liquid