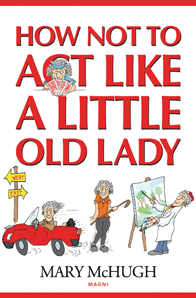 How Not to Act Like a Little Old Lady
Humorous, real-life advice to keep you young!
Age is no hindrance to living a vibrant, productive, exciting life! Discover the secret to happiness in your senior years in this amusing and insightful book. Written by 80 year-old columnist Mary McHugh who tap dances, travels, and enjoys her share of chocolate and wine. It includes her "Invaluable Rules of Life" plus inspiring advice on marriage, friendship, adventure, dieting, self-acceptance and so much more. 95 pages. 
---
We Also Recommend
---
Liquid error (layout/theme line 352): Could not find asset snippets/spurit_uev-theme-snippet.liquid