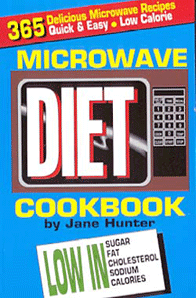 Microwave Diet Cookbook
365 Quick and Easy, Low Calorie, Delicious Microwave Recipes.
Low in Sugar, Fat, Cholesterol, Sodium, and Calories.
Enjoy healthy meals every day that are a cinch to prepare. These recipes are low in sugar, fat, cholesterol, sodium, and calories. The collection combines the best in today's trend towards meals that are low in fat, salt, and sugar and high in complex carbohydrates and fiber with the speed and ease of microwave cooking. Get started today with one of the 365 delicious recipes. 
---
We Also Recommend
---
Liquid error (layout/theme line 352): Could not find asset snippets/spurit_uev-theme-snippet.liquid