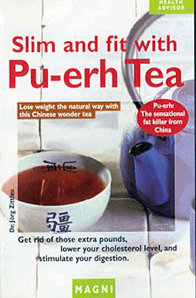 Slim and Fit with Pu-erh Tea
The sensational fat killer from China.
Lose weight the natural way with this Chinese wonder tea.
Pu-erh tea is a specialty tea from China, consumed there for thousands of years for its taste, as well as its health benefits. The extremely long fermentation process gives Pu-erh its uniquely earthy, nut-like flavor. Pu-erh tea, consumed regularly, will help you get rid of those excess pounds, lower your cholesterol, and stimulate your metabolism. Pu-erh tea is the perfect accompaniment to any weight loss program and also helps to cleanse and revitalize your body. 61 pages. 
---
Liquid error (layout/theme line 352): Could not find asset snippets/spurit_uev-theme-snippet.liquid