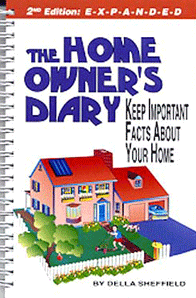 Home Owner's Diary
You need this book if you have an apartment, home, condo, townhouse, rental or vacation home.
A comprehensive way to record all the important details of your home purchases, maintenance, and improvements. Now you can quickly and easily find the receipt for the repair work, remember whether it was Vanilla Cream or Almond Cream, determine whether the refrigerator is still under warranty, and gather all necessary information for tax purposes - all organized in one location!

Great closing gift for real estate agents! Click here to buy in bulk or call 1-888-645-0022 for customer service.
---
We Also Recommend
---
Liquid error (layout/theme line 352): Could not find asset snippets/spurit_uev-theme-snippet.liquid