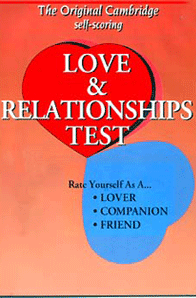 Love & Relationship Test
Rate yourself as a...Lover, Companion, Friend
Find out if you are right for each other.
One test per person.
Do you belong with your mate, lover, or spouse? Find out in this accurate, revealing, in-depth test that analyzes your personal love values and your chances of finding a deep, meaningful, long-lasting relationship. You'll discover how compatible you are with your mate, lover, or spouse and whether you belong together! You'll find out if you're capable of enjoying a happy marriage and whether you are headed for happiness or heartache. It's a fun test to take alone or with someone special. 
---
We Also Recommend
---
Liquid error (layout/theme line 352): Could not find asset snippets/spurit_uev-theme-snippet.liquid