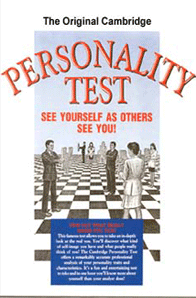 Personality Test
See yourself as others see you.
Find out what really makes you tick.
One test per person.
Are you ready to find out about your most intimate personality traits? This test is one of the most unique, most fascinating and most revealing tests ever published. You'll learn what things you're self-conscious about and to what degree you control your own destiny! You'll host an unusual, once in a lifetime dinner party and, from the type of people you invite, it will reveal an important part of your personality. You'll discover how you really view the world, situations, and people that confront you. 32 pages. 
---
We Also Recommend
---
Liquid error (layout/theme line 352): Could not find asset snippets/spurit_uev-theme-snippet.liquid